As you all may know, first impressions are everything . From your first date to your first potential home. Whatever the case may be, when a stranger is acquitted to something new, a judgement is made subconsciously within the first 30 seconds. Now when it comes to Tamlin Homes, I am proud to announce I am their newest employee. After completing my first week of work here, I would like to tell you my first impression of this company.
Friendliness; the first impression I have about the staff members here is the exceptional amount of positive energy that exudes from each individual. Not only are they kind, they are willing to take their time to explain and educate, no matter what their position may be. At Tamlin Homes every employee is treated with a high level of respect. It's no surprise that clients that have walked in have felt this energy and left with the same impression as me leaving countless positive reviews and remarks.
Uniqueness; looking closely at the projects that Tamlin Homes has been a part of, I began to see why it was that a company like Tamlin has been in business for so long, and has been winning awards. The prefabricated houses that Tamlin has designed are like no other. From the highest quality of wood to the most modern designs, the combination is breath taking. The one in particular that stood out to me was the Gambier . You don't see many one-story houses anymore, it's all about small and tall for everyday common homes now. However, this house design breaks all the common day house stigmas in a breathtaking one story, open concept house plan. The house looks impressive, with a beautiful entry way/patio, and high 14ft vaulted ceilings. Its unique urban design blends harmoniously with the simplicity of its structure. It showcases this beautiful rich wood with large glass windows and every accent to compliment its build. It is no surprise that the original G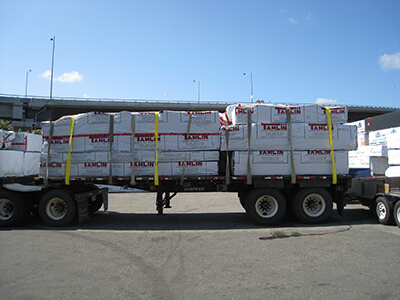 ambier won the prestigious Georgie Award.
Dedication to Quality; finally, the last major impression I had about this company is how dedicated they are to providing the highest quality. Not only is their service exceptional, but they exert quality all the way down to the warehouses in which their products come from. Before anything ever reaches the consumer, each timber component is tested in their warehouse for a quality and proper fit. Furthermore, their design process is extremely particular; where before a process can even begin assurances are made to ensure that everything is up to code and even possible to begin with. As compared to other companies that are sales based, Tamlin is heavily quality based and will stop at nothing to ensure only the best is given to each and every client. As you can tell Tamlin brings a pretty unbeatable standard to its customers.
In conclusion; from my short time here at Tamlin I am beginning to understand how this company operates so successfully with customers raving with positive reviews. If you are looking to hire a company that cares for your needs, budget and quality standards then you are in the right place. I have never seen a company with as much gratitude and respect to its clients as Tamlin. Try it for yourself call in and experience what Tamlin is all about for yourself.